The horror genre has ancient origins with roots in folklore and religious traditions, focusing on death, the afterlife, evil, the demonic and the principle of the thing embodied in the person. These were manifested in stories of beings such
as demons, witches, vampires, werewolves, and ghosts.
1717
24th September The birth of Horatio Walpole, 4th Earl of Orford .Who's credited for writing the first Gothic novel, The Castle of Otranto (Death 1797)
​
1764 The Castle of Otranto novel by Horace Walpole is published. It is generally regarded as the first gothic novel
​
9th July The birth of Ann Radcliffe (Born Ann Ward ) an English author of Gothic and pioneer fiction Gothic fiction. (Death 1823)
1795
7th September The Birth of John William Polidori, who credited by some as the creator of
the vampire genre of fantasy fiction. (Death 1821)
​
1802
26th February The birth of Victor Marie Hugo, a French poet, novelist. Hugo is considered to be one of the greatest and best-known French writers.
Outside France, his most famous works are the novels
"The Hunchback of Notre-Dame" (Death 1885)
1807
19th August The birth of Jane Wells Webb Loudon, an English author and early
pioneer of science fiction. She wrote before the term was invented, and
was discussed for a century as a writer of Gothic fiction, fantasy or horror. (Death 1858)
1809
19th January The birth of Edgar Allan Poe, an American writer, editor, and literary critic. He is best known for his poetry and short stories, particularly his tales of mystery and the macabre (Death 1849)
1797
30th August The birth of Mary Wollstonecraft Shelley. She was the author of Frankenstein(Death 1851)
1816 "The Vampyre" was written by John William Polidori, often referred to as the first story successfully to fuse the disparate elements of vampirism into a coherent literary genre.
​
1818
1st January "Frankenstein" or, The Modern Prometheus novel written by English
author Mary Shelley was Published
​
1819 The English word "zombie" is first recorded, in a history of Brazil by the poet Robert Southey
​
1827 "The Mummy! Or a Tale of the Twenty-Second Century, which is a three- volume novel written by Jane Webb is published. This was the first English- language story to feature a reanimated mummy
​
1850
13th November The birth of Robert Louis Stevenson. The author of "Strange Case of Dr. Jekyll and Mr. Hyde" (Death 1894)
​
1886 "Strange Case of Dr. Jekyll and Mr. Hyde" a gothic novella by Scottish author Robert Louis Stevenson, first published
​
1818 "Frankenstein" or other name known by "The Modern Prometheus"
is published. Written Mary Shelley
​
1819 The English word "Zombie" is first recorded in a history of Brazil by the poet Robert Southey
​
1831 The Hunchback of Notre-Dame a French Gothic novel by Victor Hugo, published
​
1847
8th November The birth of Abraham "Bram" Stoker the Irish author, best known today for his Gothic novel Dracula. (Death 1912)
​
1854
16th October The birth of "Oscar Fingal O'Flahertie Wills Wilde" (Oscar Wilde) who
was an Irish poet and playwright. He is best remembered for his
epigrams and plays, and his novel "The Picture of Dorian Gray"
(Death 1900)
1859 Oakley Court is a Victorian Gothic country house set in 35 acres
(140,000 m2) in the civil parish of Bray county of Berkshire was built for
Sir Richard Hall Say. In August 1949 Oakley Court became home to the famous British film production company Hammer Films. Also used in The Rocky Horror Picture Show (1975).
​
1862
1st August The birth of"Montague Rhodes James",he is best remembered for his ghost stories, which some regard as among the best in the genre.(Death 1936)
​
1879
6th September​ The birth of "Friedrich Gustav Maximilian Schreck" known professionally as "Max Schreck", was a German actor, best known for his lead role as the vampire Count Orlok in the film Nosferatu (1922).(Death 1936)
​
1880
12th July The birth of Tod Browning (born Charles Albert Browning,American film actor, film director, screenwriter, and vaudeville performer.He directored many well-known Horrors including Dracula (1931),Freaks (1932)
​
​
1883
1st April The birth of Leonidas Frank "Lon" Chaney was an American stage and film actor, make-up artist, director, and screenwriter. He is regarded as one of the most versatile and powerful actors of early cinema, renowned for his characterizations of tortured, often grotesque and afflicted characters,and his groundbreaking artistry with makeup (Death 1930)
​
1885
1st March The birth of "Lionel Alfred William Atwill" an English-American stage and screen actor. He played in many Horror films including Son of Frankenstein (1939) (Death 1946)
​
1887
23rd November The birth of "William Henry Pratt", better known by his stage name Boris Karloff, an English actor who was primarily known for his roles in horror films. He portrayed Frankenstein's monster in
Frankenstein (Death 1969)
1889
5th May The birth of Jack Pierce (born Janus Piccoul) was a Hollywood make-up artist best remembered for creating the iconic makeup worn by
Boris Karloff in Frankenstein (1931), (Died 1968)
22nd July The Birth of "James Whale" an English film director, theater director, and actor, who spent the greater part of his career in Hollywood. He is best remembered for several horror films (Death 1957)
​
19th November The birth of William Claude Rainsan, am English film and stage actor whose career spanned several decades. After his American film debut as Dr. Jack Griffin in The Invisible Man (1933) and many other Horrors
​
1890 "The Picture of Dorian Gray" a Gothic and philosophical novel by
Oscar Wilde is published
​
20th August The birth of Howard Phillips Lovecraft was an American writer of weird fiction and horror fiction (Death 1937).
1892
13th June The birth of "Philip St. John Basil Rathbone", an English actor. many in He played roles horror films including "Tower of London" (1939), III,
an and Son of Frankenstein (1939) (Death 1967)
​
1896 "Le Manoir du diable" or "The House of the Devil", was released in the
United States as The Haunted Castle and in Britain as "The Devil's Castle"
French short silent film directed by Georges Méliès. it was technically
to be considered the first horror film (and, because it includes a
transformation involving a human turning into a bat, it has even been
called the first vampire film)
​
​
​
​​​​​​
1897
26th May "Dracula" A Gothic horror novel published is by Irish author Bram Stoker
​
October "The X-Rays" (also known as The X-Ray Fiend is an 1897 British short silent comedy film, directed by George Albert Smith, featuring a courting couple exposed to X-rays. The trick film, according to Michael Brooke of BFI Screenonline, "contains one of the first British examples of special effects created by means of jump cuts"
​
1899
22nd February The birth of "Dwight Iliff Frye" an American character actor of screen. He is stage and best known for his portrayals of neurotic, murderous
villains in several classic Universal horror films (Death 1843)
​
13th August The Birth of Sir Alfred Joseph Hitchcock was an English film director and producer, widely regarded as one of the most influential and widely studied filmmakers in the history of cinema (Death 1980)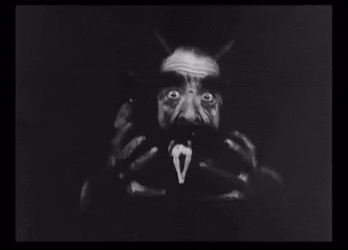 ​
1904
23rd February The birth of Terence Fisher a British film director best known for
his work for Hammer Films. He was the first to bring gothic horror
alive in full color, and the sexual overtones and explicit horror in
his films(Death 1980)
​
​
26th June The birth of "Peter Lorre" a Hungarian-born American character actor of Jewish descent. Some of his last roles were in horror films directed by Roger Corman. (Death 1964)
​
​
​
​
​
​
1905 "Esmeralda" a French short silent film, was released. This was based on the novel The Hunchback of Notre-Dame written by Victor Hugo.
The film is the oldest film adaptation of the novel
​
​
​
1906
5th February
The Birth of "John Carradine" (born Richmond Reed Carradine) an American actor, best known for his roles in horror
films, Westerns, and Shakespearean theatre. (Death 1988)
​
10th February The birth of Creighton Tull Chaney, known by his stage name
"Lon Chaney Jr"an American actor known for playing many roles in
Horror Films. He was the son of the stage performer Lon Chaney
(Death 1973)
1907
15th September The birth of Vina Fay Wray was an American actress most
noted for starring as Ann Darrow in Horror films including the 1933 film King Kong. (Death 2004)
1908
19th January The birth of "George Langelaan". He is best known for his 1957
short story "The Fly", which was the basis for the 1958 and 1986
sci-fi/horror films and the 2008 opera of the same name. (Death 1972)
March "Dr. Jekyll and Mr. Hyde" silent horror film is released. This is the
first screen adaptation of Robert Louis Stevenson's 1886 novel Strange Case of Dr. Jekyll and Mr. Hyde.
​
1910 The first motion picture adaptation of Mary Shelley's "Frankenstein".
This was a 14- minute short film
1911
11th March "L'Inferno" an Italian silent film, loosely adapted from Infernoid is
released. This was the first canticle of Dante Alighieri's Divine Comedy. L'Inferno took over three years to make and was the first
full-length Italian feature film
​
​
27th May The birth of "Vincent Leonard Price" an American actor best known for his performances in horror films (Death 1993)
1912
30th April Universal Pictures is founded. It is the oldest surviving film in the studio United States, the world's fifth oldest.
​1913
26th May The birth of "Peter Wilton Cushing", an English actor best known for his roles in the Hammer Productions horror films (Death 1994)
​
​
22nd August "The Student of Prague" a German silent horror film. It is loosely based on "William Wilson", a short story by Edgar Allan Poe, the poem It is generally deemed to be the first independent film in
history
​
22nd December "The Werewolf" (1913) is released. This is a silent film short that is
considered the first werewolf film
​
​
​​​
1914
31st July The birth of "Mario Bava" was an Italian cinematographer, director special effects artist, and screenwriter frequently referred to as the
"Master of Italian Horror" and the "Master of the Macabre"(Death 1980)
​
1916
Das Phantom der Oper was released. A silent film.The film, also known as Das Gespenst im Opernhaus, is notable for being the
first film adaptation of The Phantom of the Opera by Gaston Leroux.
​
23rd November "Francis Michael Gough" an English character actor who made over 150 film and television appearances. He is known for his roles in the
Hammer horror films (Death 2011)
​
1917
5th April The birth of "Robert Albert Bloch" an American fiction writer, primarily of crime, horror, fantasy and science fiction, from Milwaukee, Wisconsin. He is best known as the writer of Psycho
(Death 1994)
​
1919
5th October The birth of "Donald Henry Pleasence", an English actor. His best- known film roles include psychiatrist Dr. Samuel Loomis in Halloween and multiple Horror Genres (Death 1995)
​
1920
26th February The Cabinet of Dr. Caligari Das Cabinet des Dr. Caligari)German silent horror film, is released in. Some called it cinema's first cult film
​
1922
4th March Nosferatu: A Symphony of Horror a German Expressionist horror film, directed by F. W. Murnau, starring Max Schreck as the vampire Count Orlok The film shot in 1921 and released in 1922, was an unauthorized adaptation of Bram Stoker's Dracula (1897)
​
​
27th May The birth of "Sir Christopher Frank Carandini Lee" an English
actor, singer, and author. With a career spanning nearly 70 years, Lee was well known for portraying villains and became best known for his
role as Count Dracula in a sequence of Hammer Horror(Death 2015)
1924
25th December The birth of "Rodman Edward Serling" an American screenwriter,
playwright television producer, famous work TwilightZone &
Night Gallery (Death 1975) ​​​​
1926
5th April The birth of "Roger William Corman" is an American director,
producer, and actor. He has been called "The Pope of Pop Cinema"
and is known as a trailblazer in the world of independent film
Also known for Corman-Poe films, &The Little Shop of Horrors
​
​
​
​
​
​
​
1927
17th June The birth of Lucio Fulci an Italian film director, screenwriter, producer, and actor. He garnered an international cult following for his giallo and horror films.(Death 1996)
​
​
​
​
​
​
​
12th August The birth of "Daniel Mayer" Cherkoss known as Dan Curtis was an American director and producer of television and film, known
among fans of horror films for his afternoon TV series Dark Shadows
and TV films such as Trilogy of Terror.(Death 2006)
​
1928
7th January The birth of "William Peter Blatty" best known for his 1971 novel
"The Exorcist" and for the Academy Award-winning screenplay of its film adaptation. (Death 2017)
​
1929
12th September The Great Gabbo (1929) was released. This was probably the earliest example of a creepy doll in the movies
​
1931
12th February The first "talking horror film Dracula is a 1931 American pre-Code
vampire-horror film directed by Tod Browning and
starring Bela Lugosi as Count Dracula.
​
​​​​
​​
1932
4th April The birth of Anthony Perkins was an American actor and singer. Who
is best remembered for playing Norman Bates in Alfred Hitchcock's Psycho (Death 1992)
​
1933 "King Kong" a giant movie monster was released in cinemas. King Kong resembling an enormous ape, that has appeared in various mediasince 1933. Kong has been dubbed the Eighth
Wonder of the World, a phrase commonly used within the films.
​
​
​
​
​
1934
November Hammer Film Productions a British film production company based in London. was founded by William Hinds& James Carreras
​
​
​
1935
13th May The first fere film to use an anthropomorphic werewolf was Werewolf
of London was released in cinemas.
​
13th November The birth of "Tom Atkins" is an American character actor. He is prmarily known for his work in the horror and thriller film genres
​
1937
29th December The birth of Barbara Steele a British film actress and producer. She is best known for starring in Italian gothic horror films of the 1960s.
​
31st December The birth of "Sir Philip Anthony Hopkins" a Welsh[actor, director, and
producer. Known to have played in many Horror Films including Hannibal Lecter in The Silence of the Lambs
​
​
​
1939
2nd August The birth of "Wesley Earl Craven" an American film director, writer, producer, and actor. He was known for his pioneering work in the genre of horror films, particularly slasher films (Death 2015)
1940
The birth of David Seltzer an American screenwriter, producer
and director, perhaps best known for writing the screenplays for
The Omen (1976)
​
​
​
​
4th February George Andrew Romero was an American filmmaker, writer and editor.
He is best known for his series of gruesome and satirical horror films
about an imagined zombie apocalypse, beginning with Night of the Living dead(Death 2017)
6th October
The birth of David John Pinner, born is a British actor and novelist. His 1967 novel Ritual was a major inspiration for Anthony Shaffer's film The Wicker Man (1973)
1941
4th October The Birth of "Anne Rice", born Anne O'Brien, is an American author of gothic fiction, Christian literature, and erotic literature. Author of "Interview with the Vampire" in 1994, and "Queen of the Damned" in 2002.
​
1943
25th January The birth of Willard Tobe Hooper an American director, screen
and producer best known for his work in the horror genre.
Among his most recognized films are The Texas Chain Saw Massacre
(1974) (Death 2017)
2nd March The birth "Peter Francis Straub" an American novelist and poet. His horror fiction has received numerous literary honors
​
15th June "Abbott and Costello Meet Frankenstein" is released in the cinema. This as the first commercially successful comedy horror film
​
​
​
​
​
​
​
13th August The first dedicated horror comic books appear, Gilberton Publications' Classic Comics
1945
9th July The birth of "Dean Ray Koontz" American author. His novels are billed suspense thrillers, but frequently incorporate elements , of horror, fantasyscience fiction, mystery, and satire.
​
1946
3rd November The birth of "Thomas Vincent Savinan American actor, stunt performer film director, and prosthetic makeup artist. He is known for his makeup and special effects work on many films directed by George A. Romero, including Martin, Dawn of the Dead, Day of the Dead, Creepshow
​
1947
6th June The birth of "Robert Barton Englund" an American actor, voice actor, singer, and director, best known for playing the infamous serial killer
Freddy Krueger in the Nightmare on Elm Street film series.
1947
21st September The birth of "Stephen Edwin King" an American author of horror, supernatural fiction, suspense, and fantasy novels. His books have
sold more than 350 million copies
​
​
​
​
​
1948
16th January The birth of "John Howard Carpenter" American filmmaker, screenwriter, and composer. Although Carpenter has worked with, various movie genres he is associated most with horror, action,
and science fiction
​
4th September The birth of "Michael John Berryman" is an American actor. Berryman
was born with hypohidrotic ectodermal dysplasia, a rare condition
characterized by the absence of sweat glands, hair, and fingernails;
his unusual physical appearance has allowed Berryman
to make a career out of portraying characters in horror movies and
B movies.
​
14th December The birth of Deanna "Dee" Wallace. She is also known for her starring roles in several horror films including The Hills Have Eyes (1977),
The Howling (1981), Cujo (1983) and Critters (1986), which earned her
the title of "scream queen"
​
1952
The birth of Stephen Volk (born 1954)is a Welsh screenwriter st who specializes in the horror genre
​
5th October The birth of "Clive Barker" is an English writer, film director,and visual artist. Barker came to prominence is of stories of the Book
Blood the mid-1980s wit a series of short blood,which established
him as a leading horror writer.
1954
27th October The first Kaiju film Godzilla is released in cinemas.Kaiju(怪獣 kaijū, from Japanese "strange beast") refers to a Japanese genre of films which feature giant monsters.
​
​
​
​
​
​
2nd December The birth of "Anthony Tiran Todd" is an American actor, voice artist,
and film producer. He has played a role in numerous horrors,
Night of the Living Dead (1990), the titular character in the
Candyman horror trilogy (1992–1999), William Bludworth in the
Final Destination franchise (2000–2011),
​
​
​
​
​
​
​
​
​